Who says you can't teach an old dog new tricks? The Brooklyn landmark bakery, Mrs. Maxwell's on Atlantic Avenue in East New York, has proven that just because you might have been around a long time, it doesn't mean you can't still improve.
Borough President Marty Markowitz declared August 9th, 2011 as "Mrs. Maxwell's Bakery 'Go Green' Celebration Day."
"Mrs. Maxwell's Bakery has satisfied the sweet tooth of Brooklynites since 1928 in the very same location on Atlantic Avenue and I commend them for taking their long-standing business to the next level by 'going green'," Markowitz said. "Con Edison's program is a win-win, and I hope that Mrs. Maxwell's successful example will encourage many other small businesses to do the same."
Sam Naraiswar, vice president and general manager of the bakery, decided to see what he could do to save money and energy at the bakery. Con Edison's Small Business Direct Install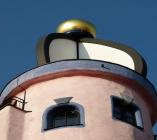 Program was able to asses Mrs. Maxwell for energy usage, for free. The survey revealed that there were several things the bakery could do which would help them save money and energy.
The Con Edison program supplied Mrs. Maxwell's with 71 free CFL lamps and changed another 86 fluorescent lights and lamps. They also installed an additional 14 LED lamps. The program paid for 70% of the cost of the upgrade, leaving the bakery with only 30% of the bill which the bakery paid 'out-of-pocket.' As a result of the improvements the bakery now pays
$7,075 less for energy each year. This savings means that the cost of the upgrade was paid for in less than five months.
"We're thrilled with the results of the program and are honored to receive this proclamation from Borough President Markowitz," said Naraiswar. "Not only do we now have better lighting in key areas of the bakery, but we're also saving over $7,000 on our energy costs annually."