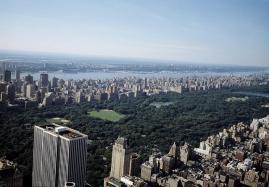 Houston-based Spectra Energy Corporation, a Fortune 500 supplier and distributer of natural gas throughout North America, will be holding a host analyst/investor breakfast in New York City this coming Tuesday, August 7th.
The breakfast meeting will be held at the New York Palace Hotel Drawing Room. On hand to deliver remarks about the firms second quarter 2012 financial results will be the president and CEO of Spectra Energy, Greg Ebel, and the CFO Pat Reddy. After their brief statements questions will be fielded from the audience.
Just because you are not in New York does not mean you must miss this meeting. There will be webcast streamed beginning at 8am ET which can be accessed through the investors section of Spectra's website. Phone calls from internet participants will be accepted by calling (888) 252-3715 in the US and Canada. Those wishing to participate outside North America can dial (706) 634-8942.