Acciona Energy is now making a bid to develop a 76.5-megawatt wind farm, which is projected to create 150 temporary jobs during construction and between 6 and 10 permanent jobs when the farm is up and running.
Clear Economic Benefits for New York
The project manager of the St. Lawrence Wind Farm, Timothy Q. Conboy explained how the project will be good for New York.
"The economic benefits are clear," Conboy said. "The benefits that have been in other parts of New York will accrue to Cape Vincent, Lyme and Jefferson County if our project goes forward."
Value Disputed by Committee Report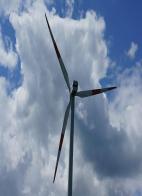 Acciona created a report describing the far-reaching economic benefits of wind power to the area, with a special emphasis on the benefits this particular project will have to residents of Cape Vincent, Lyme and Jefferson County when the wind farm is completed. The report was distributed earlier this month to officials in the town and school districts and the county. The report is at least in part responding to a report issued by county officials called the Cape Vincent Wind Economic Impact Committee report. The report is available to view on line, its conclusion being that the project will negatively affect the area, including lowering property values and hurting tourism and the school district.
Mr. Conboy defended the benefits of the project in response to the committee's report.
"We didn't go through point-by-point and disagree," Mr. Conboy said. "But there are 14 operating wind farms in New York State and we have specific examples from those projects, which have had a significant, widespread benefit on the host communities. The Cape Vincent report ignored those."