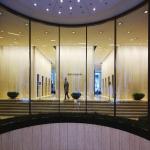 DHL, one of the world's leading logistics company, is doing its part.  In an initiative to reduce their carbon footprint, DHL has just introduced a convoy of environmentally friendly delivery trucks in Manhattan.  This initiative was just inaugurated in New York by Frank Appel, the CEO of Deutsche Post DHL.
Reducing Carbon Emissions
As Appel said when he presented the first 80 green vehicles, "Sustainability, especially the reduction of carbon emissions, is a central aspect of our business and an integral part of our corporate strategy. As the global leader in logistics we are ideally positioned to foster climate protection in order to save our environment for future generations."
The New Fleet
The 80 vehicle fleet that are now part of DHL Express will include 30 American-made, battery-powered electric vans and 50 hybrid trucks.  This fleet cuts down on fossil fuel use by more than 50% each year when compared with conventional vehicles.
A GoGreen Program
DHL takes great pride in its GoGreen program, aiming to bring the company's carbon levels down by 30% by 2020.  Deutsche Post DHL's multi-million dollar investment in these 80 vehicles is certainly part of the Group's overall global GoGreen strategy.
Ian Clough, the CEO of DHL Express U.S. explained that, "Our investment in these new green vehicles supports a more energy-efficient, low-emissions economy. Having partnered with American companies also represents an investment in the U.S. economy."