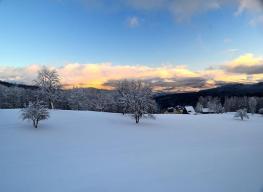 Jason Post, spokesman for New York City mayor Michael Bloomberg announced today that the mayor will unveil several new proposals designed to reduce New York's carbon footprint as well as to help New Yorkers conserve energy.
The plans are to be announced tomorrow in a speech which Mayor Bloomberg will deliver at Harlem Stage, a center for the performing-arts located within a 121-year-old gatehouse which guards a tunnel that brings water from the Croton reservoir system to the northern part of the city.
According to Post, the mayor will describe a new program in which New York City will establish solar power plants on top of landfills in Staten Island and Brooklyn which will be able to supply about 50,000 homes with electricity. The main function of the solar power plants will be to significantly reduce the city's dependence on emergency generators, especially during the hottest summer days when the city's supply of energy is sorely taxed. Because the emergency generators burn petroleum-based fuel they create a large amount of carbon gas emissions which is a waste product that has been shown to change the earth's climate in dangerous ways. The solar power plants would help to decrease the amount of carbon emissions released into the atmosphere.
A second project to be announced by the mayor will be the creation of the not-for-profit Energy Efficiency Corporation. The Mayor will use $40 million of  federal economic stimulus money to create the corporation which will then be able to provide affordable financing to landlords and building owners to install energy efficient infrastructure in their buildings, such as more efficient lighting solutions, better heating systems and improved insulation.
The mayor's office said in a memo describing the proposal that, "Banks are often reluctant to lend money for energy- efficiency projects because the loans are relatively small and difficult to manage." Therefore the city will fill in the gap.
These and other proposals are part of Bloomberg's PlaNYC, a plan containing at least 100 programs whose objectives are to reduce carbon-gas emissions throughout the city by the year 2030 by 30%. PlaNYC was created in 2007 and between the years 2005 and 2009 the city as succeeded to reduce its carbon emissions by 13%.
Other programs within PlaNYC's purview are tree planting programs, rooftop gardens and reflective paint.