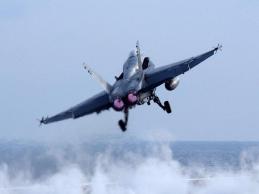 Fuel developed from alcohol is not a new concept for automobiles, but work is now being done to create jet fuels from the renewable form of fuel which is derived from crops.
Several companies are now in the midst of developing aviation fuels from such sources as ethanol and/or biobutanol, including Gevo, Cobalt, Terrabon, ZeaChem and LanzaTech.
DARPA Getting Into the Act
The Defense Advanced Research Projects Agency (DARPA) has gotten into the act by beginning to fund projects which are developing renewable jet fuels. Logos Technology, on behalf of DARPA awarded Terrabon $9.6 million over 18 months to create a more economical and more renewable solution for jet fuel production. The project, which began in April of 2011, will develop a customized fuel production process at the Bryan, Texas demonstration facility. The goal will be to be able to produce 6,000 liters of jet fuel using Terrabon's high-tech bio-refining process known at MixAlco, as a preliminary step for taking this technology commercial.
Terrabon Hot on the Biofuel Trail
"An important focus of this DARPA effort is to produce a sustainable, cost-effective, non-fossil-fuel-based solution to support the military's jet fuel needs. We thoroughly reviewed many potential processes and solutions for this initiative, and came to the conclusion that this goal can best be achieved with help of Terrabon and their mixed alcohol oligomerization pathway, MixAlco," said Dr. Greg Poe, CEO, Logos Technologies.
Analysts expect that there will be a fuel spec approved sometime in 2013. So it is not too long in the future when not the only alcohol in the air will be the kind found in those teeny tiny bottles you get on board.