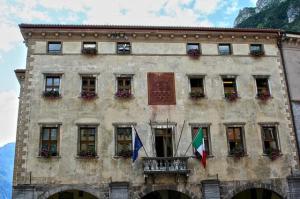 In New Paltz, New York the decision has been made to join in the efforts of New York State to incorporate renewable energy sources into the town's overall energy use plan. Both the village and the town of New Paltz are now conserving resources, reducing air pollution, and lowering operating costs by installing and using the clean and renewable energy source, the sun.
A photovoltaic (PV) system for electric generation was installed on top of the Department of Public Works building, sending power to New Paltz's municipal buildings. The PV system transforms sunlight to electricity in a clean and renewable way. The municipal building where the PV system is located is right in the center of New Paltz, on Plattekill Avenue, which is a major thoroughfare for both pedestrian and vehicular traffic which connects the SUNY New Paltz campus to the main commercial center of the community. In this way citizens can easily see that their community is participating in the grand design of New York State to get at least 25% of its power from clean, renewable sources.
In addition to this very positive step towards more use of renewable energy sources, New Paltz is also in the process of implementing the NYSERDA Energy Smart activities which concentrate on educating members of the community about PV as a source for electricity using school curriculum, seminars and workshops. Participants include SUNY New Paltz, the New Paltz Central School District and the New Paltz Regional Chamber of Commerce.